It was another successful year at MD&M West for Nectar Product Development. In addition to the excellent media coverage from MDDI and the Product Development Tour, we were featured in an article inserted in Manufacturing & Design Today on our problem-solving culture based on design thinking. Here is a summary of the article:
As a multidisciplinary firm, Nectar's design and engineering teams work together to craft intuitive products that unite functionality with human-centered design. Nectar's product development process applies design thinking to industrial design, user experience design, and electrical and mechanical engineering, to ensure products are user focused.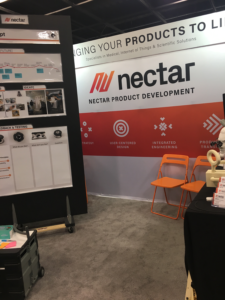 The use of design thinking helps Nectar provide solutions to a wide range of problems and concepts. This methodology combines creative and critical thinking that allows information and ideas to be organized, decisions to be made, situations to be improved, and knowledge to be gained. It's a mindset focused on solutions and not the problem. Nectar approaches problems as a team, within a structured creative process.
The firm has created a company culture around creative problem solving. By using this practice as a key driver of organizational strategy to deconstruct user, product, and business problems, Nectar is providing data-driven solutions. Their team thrives on an innovative problem-solving mentality.
Passion for design thinking, innovation, and user experience has resulted in the development of a range of award-winning products for the medical industry. Nectar Product Development has built a record of delivering consistent success.
Read the full article at Manufacturing & Design Today
Thank you to everyone who came to see Nectar at MD&M West 2018!