If you're a designer of any kind, you probably know by now that designing with empathy, making things intuitive, and creating a form that follows function are foundational practices of design. All of this encompasses a good User Experience (UX) a term we hear pretty often these days.
What exactly is UX Design?
If you haven't looked it up yet, Wikipedia defines it as:
User experience design (UXD or UED) is the process of enhancing customer satisfaction and loyalty by improving the usability, ease of use, and pleasure provided in the interaction between the user and the product.
It's the sum of all interactions with a brand's products and services. But this definition is still vague compared to what UX designers do on a daily basis. There are many articles on decoding this term, but there's not a commonly accepted single definition.
UX is a very big, multidisciplinary field (not to mention what a buzzword it has become on job posts), which involves some major common practices such as industrial design, interaction design, information design, visual design, web design, service design, etc.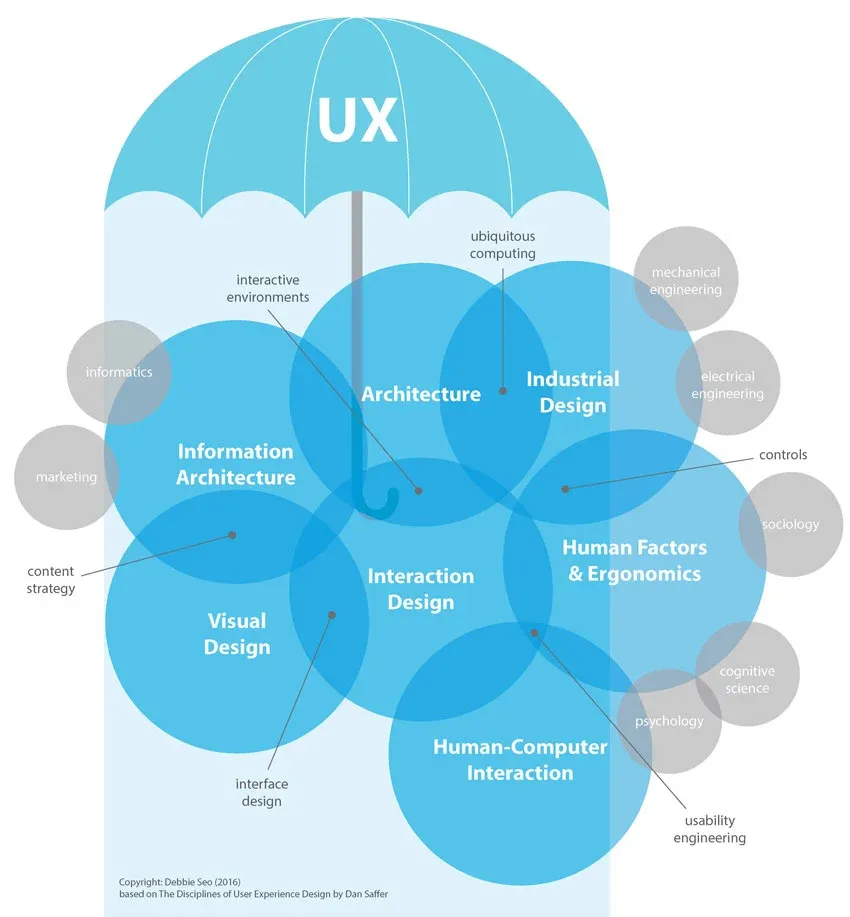 This is my take on a more digestible infographic of the different disciplines within UX. I think UX is a huge umbrella- under it are major disciplines in the big blue bubble and sub disciplines in the gray bubbles. When the major disciplines are combined, they form tasks like content creation, interface design, ubiquitous computing, etc.
Experience-driven Design
From Apple watches to Nest home thermostats, the flood of connected products that blend digital and physical design has been a popular subject to the tech and design world.
With this expansion of digital world applications, not only are products and the way we interact with them rapidly changing, the way we rely on the web has changed immensely also. For this reason, the demand for companies seeking to hire UX designers have been rising at an enormous rate.
Graphic designers (visual designers) with no background in front-end development are starting to learn how to code and front-end developers with no background in design are starting to expand their roles as creative-thinkers. Even engineers and psychology majors are seeking to get their feet wet in UX by flexing their skills in the creative direction.
Like-wise, industrial designers (in newer terms 'product designers') like myself are getting more involved in designing a great user experience from 3D products that are tangible to 2D interfaces.
Evolving as a UX Designer
I studied industrial design with an intention of wanting to solve problems for products that improved people's lives. I was very interested in responsible design because of my nature to want to help others.
Through the course of my studies, I realized what I was drawn to was the psychology behind why people do the things they do, how they do it, and what they are feeling while/after interacting with it. This realization set the bases for my core values as a designer and what I ultimately wanted to do everyday.
I believed that Industrial Design was emerging out of its basic notion of just creating beautiful and functional things towards understanding the user and their experiences as it defined and shaped the product's requirements. Designing a beautiful form wasn't the end of our job. We had to now seamlessly integrate the interaction points of the physical form with that of a flat digital interface.
A Day in the Life
I started my career as a UX/Industrial Designer at Nectar Product Development soon after my graduation in 2014. Since, I have been vastly involved in developing several different medical products, ranging from consumer level therapeutic devices to cloud based industrial equipment systems.
My daily tasks include conducting research, brainstorming, creating wireframes, user flows, mock ups, style guides, concept development and more. That means not only do I design the physical products, but also the interfaces which are integrated into the products.
That said, one of the priceless attributes of being a 2D/3D designer is bringing a unique viewpoint to the table. Being able to flex my skill has allowed me to give diverse perspectives during brainstorm meetings and while developing concepts. For example, the way I view a physical problem on a tangible product such as ergonomics or aesthetics is translated in the same way interface layers are being tackled on a screen/display.
Nectar & UX
It's true that the term UX is fairly young and a lot of companies and organizations have been transitioning their business strategy around prioritizing the user's experience above anything else. At Nectar, we've developed our own twist at designing for six sigma and have come up with a 7-step product development process that we call our process for awesomeness.
Nectar looks at product development through the lens of all users. It's an iterative process, a back and forth between all disciplines to create a successful final product.
As for defining successful products, the team maps out the success criteria in the initial design proposal that we then match and validate the final outcome with. All in all, our goal as a team here is to deliver a kick-ass user experience in every project.
Closing Thoughts
As a young designer in this exciting field, I'm still searching for a deeper meaning in what I design and constantly seeking better ways to find solutions. As technology grows, the way we define and view design is changing as well. That's why I believe industrial design is also inevitably changing. It's evolving to a whole new level with strategic thinking and connectivity across many fields.