Stacie Depner, a calm and colorful woman working in mechanical engineering consulting, has a pleasant smile and a gentle laugh and is one of those multi-faceted people that can surprise you. Stacie has a unique quality of being able to straddle both the world of mechanical engineering and the visual arts. A serious and capable maker of things, one who can get her arms greasy with car oil and build a 1930 Model A Roadster from the ground up, can just as easily don makeup and a 60's outfit to be the star of her own 1960's styled Barbarella photoshoot.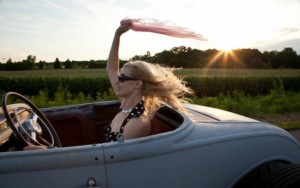 "When did you first get into cars?" I ask, looking at photos of her and her Roadster at the car show, Krome and Kandy, that she helped run years ago.
Stacie tells me her dad brought her to car shows as a kid, and when she began driving herself around, she'd stop and check out any she'd see. "When I moved to Minneapolis for college, there was this place called Porky's. It was an old drive in, and all these old cars would come up off of the highway past my house going to Porky's." She started asking around and found out one of the biggest car show in the nation, Back to the 50s happened right there at the fairgrounds. "I've been going from 1996 or so, until I moved out here."
Not limited to just attending the shows, Stacie participates with a beautiful 1930's, Model A Roadster. "I've had the roadster out to a number of shows here" she tells me, as she describes how she rebuilt it.
"The one that I built was just a body on a chassis. There were no fenders, no drive train. Just a body, rusty floors. The body is from 1930, the chassis is 1932; it's much stronger and beefier, because they would put bigger engines in back then." Stacie describes the work she's put into her Roadster, an artist describing her work in the car-enthusiast lingo. The frame rails were "Z'd and C'd", and she added six carburetors. Her reason? "It just looks good!" she laughs.
Of course, the heart of an artist would consider not just how it works, but how it looks. Her passion and flair for function and form are evident in her work, her appearance, and her hobbies. Next to pictures of her roadster are photos that look like they're taken straight from a 1960's B-movie.
"I call that my Barbarella shoot. We did that in Florida." She did hair, makeup, and lighting, and just had friends help out a bit with the shoot. I laugh and say she looks just like Jane Fonda. She could, indeed, be a model. She shows me yet another photo of her creative pursuits, a few motorcycles that have been pinstriped in the style of Peter Max and, finally, a car owned by Drew Carey that is completely covered in her artwork.
"I just always need to be creating things…" she says, and she certainly keeps herself busy with art and creation in any way she can.
As a kid, her passion for making things and figuring out how things worked made it harder to relate to others her age. She lived out in the country in Wisconsin before moving to Minneapolis, and finally to California. She had room to roam, and was a tomboy that played sports, and was "dirty and fearless". She understood physics at a young age, and was great at math and science. Understandably, she wasn't your typical young girl.
At a young age, she excelled enough at math and science that she was sent to Engineering Camp. "I really wanted to be a hairstylist" she laughs, explaining that her plan was to travel the world and do hair for big productions. "My mother wasn't having it." She wasn't enamored with engineering, then; her true passion was chemistry. In college, she'd decided her focus would be in chemistry and plant biology; she had a new plan to work for Aveda creating products. Then, at an unlikely moment, she had an epiphany.
"At pizzahut, where I was working, my boyfriend at the time was sitting there making and airplane out of pizzahut cardboard boxes. He wanted to make a propeller that worked, and couldn't figure it out." She watched him struggle and had to hold her tongue; she had all these ideas in her head how to make it work and improve upon it, but knew that he didn't want her help.  "Oh my god," she'd thought, "why is this driving me crazy right now?" Then she realized she had the mind of someone who not only wanted to make new things, but solve problems and improve upon ideas. She went home that day and changed her major to mechanical engineering.
Over a decade later, Stacie found Nectar Product Development.
"I'm an artist at heart and I use the design thinking methodologies in my work solving strategic business problems." NectarPD allowed her to both engineer and design, keeping her need to be creative sated. Plus, she appreciated the culture the company offered; one that allowed different personalities to express themselves, unlike places she'd worked before that were more conservative and formal. "(Formal dress and the corporate culture) truly does stunt your creativity. Being in a place like Nectar where we encourage authenticity… It's more expressive and comfortable."
In human centered design, it's important to have empathy for the client and the user. Stacie finds that there are times she gets stressed, or creatively stuck. To solve her problems, she either writes them down to organize her thoughts, or seeks guidance and wisdom from those she trusts most. She's learned not to take on the emotions of others, but to let them go. She resolves to "take a moment" and practices, as she puts it, "just being in the present and accepting where I'm at". After all, she has important work to do, and her purpose is not only to create, but to create positive impact.
At times, she needs to push the limitation of people's minds. "Sometimes people can get negative throughout the design process". She calmly helps them understand their way out of the problem.
"Stop and think about it." she'll say. "What needs to change in order for this to work?" Then she guides the team in the direction of thinking beyond the problem.
An ethical citizen of the world, she has both concern and hope for humanity. The excessive use of disposable items rather than reusables, increased pollution and waste, and products that harm the body or skin are issues that concern her. However, she has seen problems like these get addressed, then be forgotten, then remembered and addressed again.
"I really believe that humanity, when put in a rough enough situation, will turn things around. I think we go through cycles, and people forget easily. They start to find convenience in everyday life and it's hard to let that go. But when the problem starts to get bad enough that it effects them, they will start to change."
As Ms. Depner departs the room to engage with a teammate, I see her flash a smile and begin to go over one of the products they're developing. The tension in the room fades as she talks, and the team comes together; focused, positive and collaborating on greater design.