It's spring in California, and the weather isn't the only thing that feels amazing. The outlook for inventors and scientists is full of so much potential. Over the last few years we've all watched the world change dramatically before our eyes, and in many ways, the healthcare system struggled to keep up. We've met some brilliant scientists and clients with innovative ideas to improve patient care and save lives, and here at Nectar, we excel at designing and developing connecting devices and digital health. We have the process, the team, and the tools to take products from early state development to product launch.
We've integrated Design Thinking+FDA usability guidelines to provide solutions that are innovative, safe, and effective .. and we're delighted to do our part in the digital health space to quickly and safely cure diseases and save lives.
MD&M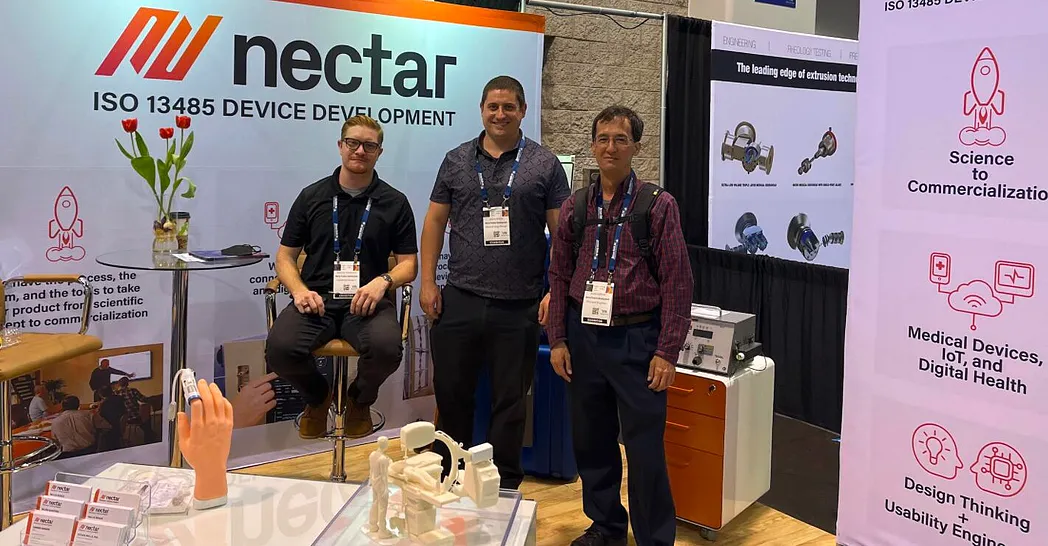 This year, we were thrilled to return in person to MD&M West 2022. It was incredible to catch up with our clients, partners, and friends — and to meet so many like-minded people on a mission to change the world. Thank you to everyone who supported us at the event.
For those of you who couldn't make it, you may have missed our big announcement: We are officially doubling down in the world of medical devices and software! For more details on what impact this will have on the future of medical devices, be on the lookout for our official announcement.
Medical & Tech Innovations
University of Michigan's noninvasive sound technology shows promise when it comes to the killing of cancer cells. (Science Daily)
Patient-operated devices are on the rise, and it could disrupt the entire healthcare industry. (Med Tech Intelligence)
Astronomers face high-tension debate over conflicting measurements of key cosmological properties. (Scientific American)
mRNA is quickly changing the world of vaccines, following the success experienced during Covid-19. (Wired)
MIT engineers are making it possible for surgeons to treat stroke victims with joystick-operated robots. (Science Daily)
Tech
Twitter's new "edit" button might offer insights about where the industry is headed. (Techcrunch)
Will the iPhone 14 launch mark the end of the iPhone 11? Check out this article for a possible look at the future of your old phone and potential new prices. (Techradar)
Harvard Business Review explores possible leaps in quantum computing availability. Could commercial use be around the corner? (Harvard Business Review)
Creativity & Innovation
New book offers tips and tricks for navigating through uncertainty when in need of a creative breakthrough. (Fast Company)
Regulatory
MD+DI assesses medical device testing without animal experimentations. How can we save humans without harming animals? (MDDI Online)