As the saying goes, "If you're going through Hell, keep going". The quote, sometimes attributed to Winston Churchill, may as well have been written for Eric Ell, who does business development for Nectar Product Development (NectarPD). Eric is charismatic and playful, with a knowing gaze that invokes the mischievous side of the god Pan, and the calm wisdom of a Buddha. He is also someone who seems to be able to navigate any amount of uncertainty without flinching.
We're sharing food and drinks at a local Mediterranean spot in Long Beach, California, and the breeze softly picks up. Eric isn't unsettled by changing winds. After talking with him for thirty minutes, he has already shown how much he is able to adapt, change, and ride the wings of chaos. "I bow to the Goddess of Entropy", he says, a glint in his eye. But how is it that a man who helps keep order in chaos, still be someone who values it?
Eric came to NectarPD during a time of transition. It could be argued that he was part of the catalyst for change, as he brought light to systems that no longer served a purpose, his presence and knowledge resulting in the previous business development manager resigning.
"I'm a social lubricant; wherever there's friction, I find a way to make things work smoothly." He frequents trade shows to network and gather resources for the engineers, and creates environments and opportunities that enable the team to work at their optimum. His primary gift to NectarPD is his ability to match the team to the right client.
"I meet people where they're at." Eric smiles, looking at me squarely. "I see them for what they are and I challenge them at their strengths and support them through their weakness. Part of finding the right client is understanding how to be authentic and find the right match." Eric screens each client that is interested in working with NectarPD. Finding out if the client and the team can truly help each other is as important to the client as it is to NectarPD.
"I don't try to change the organization to meet the market." Unlike a lot of sales models that try to convince the client to change, Eric supports a relationship where the client and the team match up and neither needs to compromise their authenticity."Find the customers to meet the organic, natural state of the organization and you have very satisfied customers."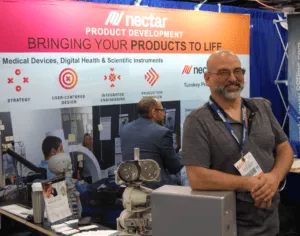 By the time Eric got involved with NectarPD, the founder, Darren Saravis, and Eric had crossed paths several times. Their similar worlds ranged from Burning Man festivals to a TEDx conference to music and art events. Eric had been working with a start-up in healthcare.
After two years, "I'd helped create this beautiful thing, and they had started treating people poorly" Eric scowled. "They were harming, not helping people. I'm old enough and wise enough that when someone pisses me off, I just pick up my toys and leave." Eric didn't believe in being a part of something that didn't stay in integrity. Nothing in healthcare was doing well at the time, but Darren's company was looking for help in business development.
Eric said, "I don't know anything about your industry, but I do know about healthcare and I do know how to make business. Teach me the business and I can sell it, and whatever investment you make in me in education, you'll make back tenfold."
Eric has been many things, and is a certified jack-of-all-trades. He built his first house when he was 8 years old. He's pulled cable for movies, done pipe-fitting, worked in refineries, been a plumber, a paramedic and done corporate sales. More impressively, he believes in doing everything to a level of mastery.
"My father taught me to be a survivalist." He said, informing me that he is an autodidact with a talent for teaching himself anything he wants to learn.
His father told him, "All you ever have is your skillset. Money will leave you. Women will leave you. Family will leave you. Everything goes away." Hence, his level of entropy.
"All you have is your skillset; that is your currency," he says. No wonder he's learned so much in his life. Acceptance and perseverance play a big role in Eric's life. Hearing the story of his family, there's no question as to why.
Eric is the son of parents who, before they met, both learned the importance of self-reliance and survival. His father, Eddie, grew up in a Japanese prisoner of war camp and survived starvation and beating. Eddie literally fought for his life; winning fights got food for his family during his time in the camp. By the time Eddie was traded in a prisoner exchange and brought to the United States, he had learned a valuable lesson; you can lose everything and everyone, except what you've learned and the skills you've mastered.
His mother, Christine, had grown up as Joanne in a steel mill town outside Pennsylvania as one of seven sisters. Raised Catholic, she looked like Dolly Parton by the age of 13 years old, so the nuns beat her for fear of her becoming a temptress. Instead of getting their beatings, she'd ride Harley's with the bad boys in town. By age 16, she'd married, but her husband was an abusive drunk. One night, she packed her bags and got on a train to Chicago. She hadn't even finished high school, but she managed to find her way alone in the big city. She changed her name from Joanne to Christine and never looked back.
Eric's parents met when Eddie was a successful businessman and Christine was working at a high-end restaurant in the 1960s. She quit her job shortly after their first date, and his dad hired someone to manage his company so they could stay up all night together and dance until dawn, every night. The picture Eric paints is of two people who lived and loved passionately.
What we learn from our parents varies, but the lessons Eric's parents instilled in him are evident. "My dad taught me to survive and my mom taught me compassion." Both of them, certainly, taught him to persevere through pain and hardship.
In faint, white ink, the words "From pain, purpose" has been etched by a tattoo artist into his forearm. Like most of the layers of his personality, this too is barely perceptible unless you look closely. I ask him about it.
"I take the things that hurt and make them powerful for you." Eric had been a paramedic before training paramedics, and had sold medical devices before he started consulting for NectarPD and working with people who create the type of medical devices he used to sell. When working with a client, Eric finds out what their pain is; they may have a fear, a problem, a challenge or some area of friction that needs attention. People tend to try and work around the pain, but Eric is able to guide the client through it, and show them how to create a strength out of something that was considered negative or painful.
"Figure out where the client's pain is and translate to them potential solutions." Eric explains, calmly. "Part of the services I offer is, 'the sherpa through the risk'. I can lead people through the trail of risk. I'm good at it, because I don't flinch."
Someone as talented as Eric could work anywhere. "Why Nectar?" I ask.
"Nectar is people who are doing things to help people." He smiles. He tells me how important helping people is to him. "I joke that, when I was a paramedic, I did medicine on a retail level. Then I got into management, training and consulting, and that I was on the wholesale level. Now I'm in business development with Nectar, sitting at the same table as brilliant and creative people, and I'm on the distribution level. As a paramedic, I could only touch one or two people's lives an hour. Now, if I spend a hundred hours helping a project come to life, that gets to help people for decades."